Aequus Pharmaceuticals Breakout Now Confirmed! (TSX-V: AQS, OTCQB: AQSZF) Reports Largest Quarterly Revenue in Company History!
Aequus reports largest quarterly revenue in company history with $420,158 in reported revenues for Q3 2018, an increase of 44% compared to the three months ended September 31, 2017 ("Q3 2017").
Aequus Is Expected To Continue Moving Higher Fast!
Q3 2018 Key Highlights Show "Significant" Year Over Year Improvement.
Aequus Pharmaceuticals Inc. (TSX-V: AQS, OTCQB: AQSZF) ("Aequus" or the "Company"), a specialty pharmaceutical company with a focus on developing, advancing and promoting differentiated products, has reported financial results for the three and nine months ended September 30, 2018.
On a year-to-date basis, the Company recorded $1,173,013 in revenues in the nine-month period ending September 30, 2018, an increase of 52% compared to the same period in 2017.
The increase in revenues were primarily attributable to increased promotional activities being focused in markets with positive market access and reimbursement listings.
Aequus (TSX-V: AQS, OTCQB: AQSZF) Announces an Expanded Market Opportunity for its Reformulated Anti-nausea Transdermal Patch in Europe!
Having recently received marketing authorization in the United Kingdom under the brand name Xonvea®. Aequus plans to launch AQS1303 in countries where an original oral form has been approved, and an accelerated path to approval may exist for reformulated products.
AQS (TSX-V: AQS, OTCQB: AQSZF) Has Now Broken Out – Showing Significant Value at These Levels.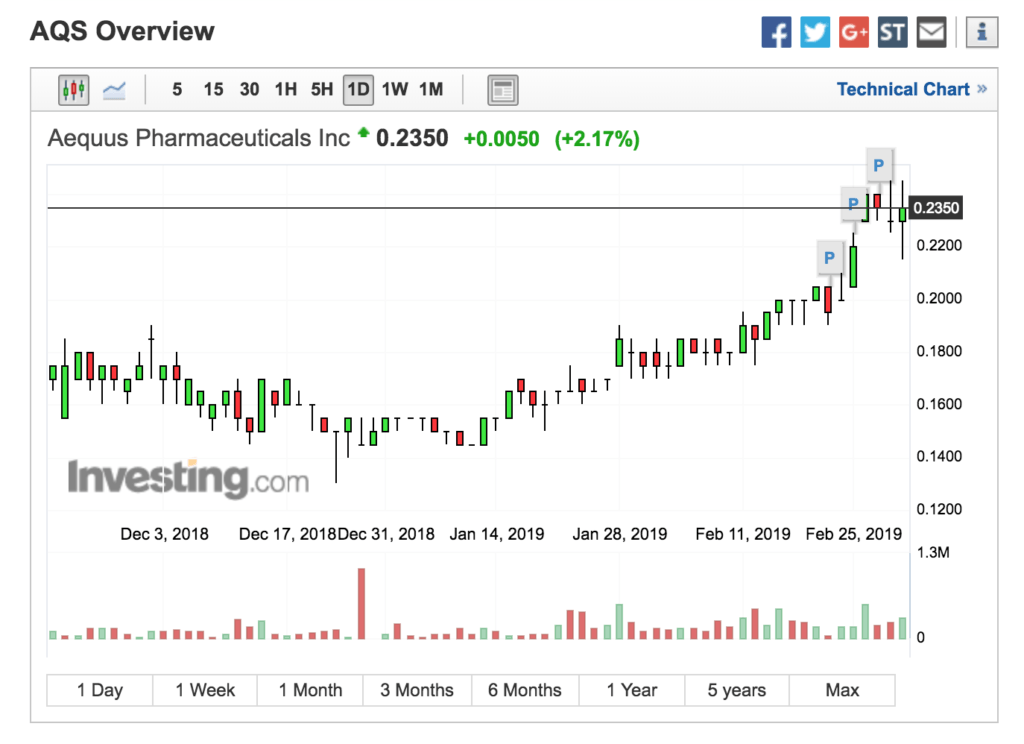 Considering the Strong Earnings Growth and Continued Positive News Flow from Aequus Pharmaceuticals (TSX-V: AQS, OTCQB: AQSZF) – Upside Potential Remains High.
Aequus Pharmaceuticals Inc. (TSX-V:AQS ) is a growing specialty pharmaceutical company focused on developing and commercializing high quality, differentiated products.
Aequus has grown its pipeline to include several commercial products in ophthalmology and transplant, and a development stage pipeline in neurology and psychiatry with a goal of addressing the need for improved medication adherence through enhanced delivery systems.
These Levels Unlikley To Last! Get Aequus Pharmaceuticals (TSX-V: AQS, OTCQB: AQSZF) Before The Anticipated Move Higher!